DESIGNING WEBSITES AND WEB PORTALS
Corporate portals
Internet websites
Dedicated websites / landing page
WEB configurators
Standards: PWA / RWD / W3C
WCAG 2.1 / GDPR
Designing websites and web portals
We design corporate portals, company websites and tactical websites. We implement efficient solutions based on PWA (Progressive Web App) technology. This area is one of our main specialisations.
Websites created by our company operate a multitude of processes including: website content management in connection with such applications and components as: calculators, configurators, e-commerce, statistics, surveys, newsletters, group work, product repositories, integration with portals and systems.
Depending on requirements, we implement projects on the basis of the following content management platforms:
We design websites on the basis of the User-Centered Design / Design Thinking path connected with an iterative design approach. Users' needs play a key role during each project stage.
See operational websites
created using the full design path (UCD).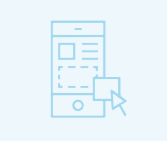 Designing usability (UX)
As regards the usability studies for websites / e-commerce systems / applications, we use quantitative and qualitative methods.
By combining them, our reports and recommendations touch upon the essence of studied problems, and the created interfaces support users' task performance and build a real business advantage.
We design Progressive Web Apps (PWA), which, thanks to the standards used, operate in a similar way to mobile apps.
They work smoothly (regardless of the quality of the internet connection).
Your website content is also available offline.
Your website can be installed on the mobile device's home screen.
They have a push message system.
Get to know CMS vmContent

We implement websites on the basis of the latest edition of the vmContentcontent management system. A content management system facilitates independent (without programmers' intervention) management of website structure and content. It contains the necessary modules, applications needed to manage both medium-size projects and extensive corporate websites belonging to stock exchange listed companies.
The CMS is opened to integration with external content providers (e.g editors, portals from which data is dynamically downloaded). Moreover, we tailor individual system modules to the needs of an entire project.