Project / 07.10.2020
Hello Poznan! - Passenger Information System (Web app)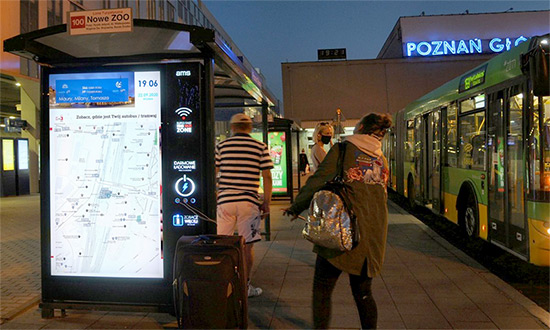 The AMS Passenger Information System is now available to residents of Poznań. On digital screens in bus shelters - Digital Citylight AMS - passengers can track the real-time location of all buses and trams heading to a particular stop, as well as departing from it. The application displayed on AMS screens was designed by VISUAL. Poznań is the second city, after Krakow, where our partner has launched the Passenger Information System.

To see the map of moving public transport vehicles, simply press the "see more" button at the bus stop. This way, anyone at the stop can see where their bus is and adjust their travel plans accordingly, as needed.

The project was recognized in two industry competitions - Innovation 2020 and Good Design 2020.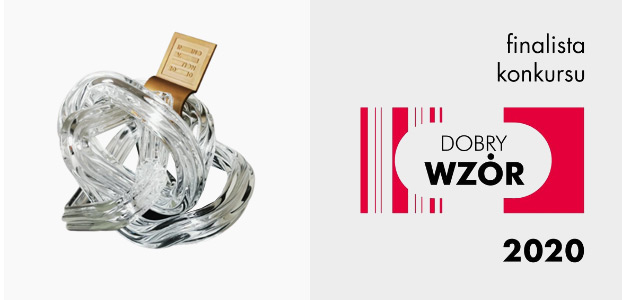 – We attach great importance to digitization, so that all users of public transport have access to current information, both in public spaces such as at stops or transportation hubs, and at their workplace or on their smartphones. – says Mariusz Wiśniewski, Deputy Mayor of Poznan. – It is good news that urban transport passengers have received another convenience. Current, clear and understandable passenger information is an extremely important element of modern public transport.

– We consistently implement the Smart City policy and design services that are useful for residents. We have transferred information that was previously only available in dedicated applications onto the screens of Digital Citylight media installed in bus shelters. In this way, we have reduced the barrier of accessibility to digital services for people who do not use applications and digital services on their phones on a daily basis, as well as for those who have temporarily lost access to the internet or have a discharged phone. – said Robert Bartoszcze, Director of Digital at AMS, responsible for implementing this system at bus stops.

– This project is an example of how open data from ZTM Poznan can be used in a useful way. – explains Jan Gosiewski, Director of the Municipal Transport Authority in Poznan. – By opening and sharing data, modern services that facilitate functioning in the city can be created. This is happening all over the world and we are pleased that Poznań is also taking this approach.

The Passenger Information System is available at the following stops in Poznan:
Plac Wiosny Ludow on Strzelecka Street (towards Krolowej Jadwigi), tram stop
Wroclawska on Podgorna Street (towards Al. Marcinkowskiego), tram stop
Teatralny Bridge on Dabrowskiego Street (towards Ogrody), tram stop
Teatralny Bridge on Roosevelta Street (towards Pulaskiego), bus stop
Poznan Glowny on Dworcowa Street (departure stop), bus stop
Poznan Głowny on Matyi Street (towards Wierzbiecice), tram stop
Wielka on Garbary Street (towards Estkowskiego), bus stop
Rondo Rataje on Krzywoustego Street (towards center), tram stop
Fredry on Fredry Street (towards Teatralny Bridge), tram stop