Project / 16.04.2019
AMS and VISUAL in digital
We are happy to announce that we have now partnered with AMS S.A. - the leader in OOH (Out-Of-Home) marketing, part of the AGORA S.A. media group.
The projects implemented include the development of applications displayed on Digital Citylights' screens. Each device is equipped with a panel featuring USB chargers, enabling people to charge a smartphone or tablet quickly while at the stop. In addition, a free Internet connection is available via the built-in WiFi.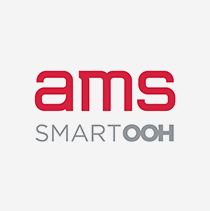 Moreover, the 75-inch screen space can be managed freely. This is where VISUAL supports AMS, by developing applications that the audience can interact with, such as by their smartphone or a button mounted on the housing.
The latest application of an interactive form on a Digital Citylight screen is a "Social Feed", presented by AMS during the INNOVATION 2019 conference. By tagging their posts on Instagram and Facebook, conference participants also presented them in the physical space of the event. The technological part and the graphical interface (creation) were created entirely by the UX department and the VISUAL Software House.