Client / 12.09.2018
Comprehensive support for a client in the TSL industry
Our cooperation with companies in the TSL (transport-shipping-logistics) sector has been continuing for 19 years. In this time, we have completed many projects for the leaders of this industry in Poland and in Western Europe. We are proud that more and more companies in the industry choose us because of our experience and the quality we offer.
We are very pleased to announce that recently ADRA-TRANShas become our client and entrusted us with the comprehensive image building in the offline and digital areas. We have: designed a new logo and a visual identity book, done a photo session and car branding. We're working on a new website, for which we've prepared the entire content (copywriting). The marketing tools we design help our client successfully win new contracts on the EU market.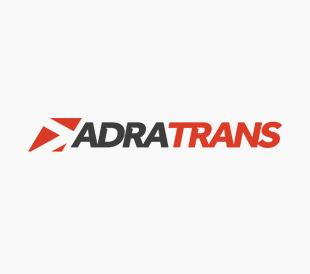 About the Client:
ADRA-TRANS specialises in road transport as well as forwarding and logistics projects carried out in the EU countries.
The company acquires new contracts and is constantly developing thanks to over 30 years of experience, its continuously modernised fleet of vehicles and the operational centre equipped with modern IT technologies. ADRA-TRANS is a family business, currently managed by the second generation of owners. It approaches with great care its essential resources - people!