Knowledge / 18.06.2023
Eye tracking research in the Visual Media offer
We are pleased to inform you that we have expanded our offering of usability testing for websites, mobile applications, and online portals to include eye tracking research.
An eye tracker is a device that allows for tracking eye movements. It can be used to gather information about what a user/consumer is looking at, how long they gaze at a specific object, how quickly they make eye movements (saccades) between different elements, and how they respond to visual stimuli.
Our clients' projects are supported by Tobii technologies, a global leader in the production of eye-tracking devices. Their products are utilized by research centers and organizations such as the University of Cambridge, Harvard University, Princeton University, Unilever, Honda, Procter & Gamble, and many others.
We offer ocular research using devices that we utilize for usability testing and perception analysis:
digital products (mobile applications, websites, games, touch screen-based applications);
product packaging and advertising materials (advertisements, posters, FMCG flyers);
outdoor advertising media - billboards, digital displays;
retail spaces – stores, malls, product displays on shelves.
Eye tracking research for outdoor advertising, touch interfaces,
retail spaces, workplaces, and entertainment venues.
It enables conducting a wide range of behavioral research. It is particularly well-suited for studies on perception in outdoor advertising, touch screen interfaces, retail spaces (FMCG), and work environments (production halls, logistics centers).
The use of a mobile eye tracker provides a unique perspective as we can see the world through the eyes of others in natural conditions and learn not only what they declare (survey research, interviews, observations) but, above all, what captures their attention, what interests them, and what evokes their emotions.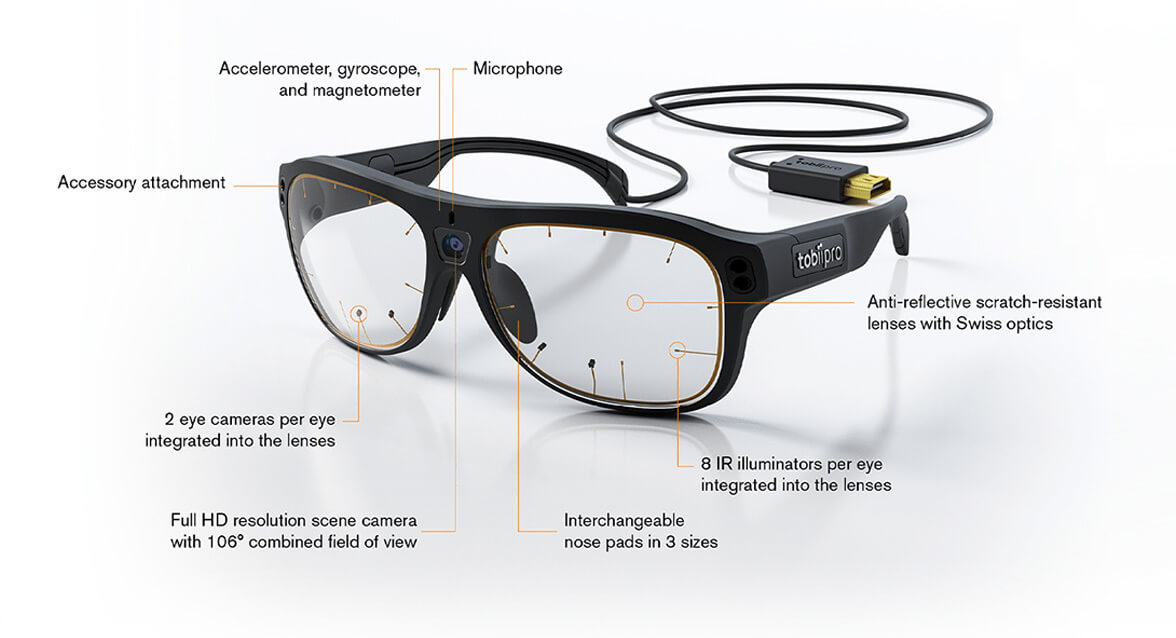 Tobii Pro Glasses 3 eye tracker
Eye tracking research for graphical interfaces of portals,
websites, and web applications.
For usability testing of graphical interfaces for portals, systems, or web applications, we utilize the mobile Tobii Pro Fusion kit. With remarkable precision, it tracks and records eye movements, and its "Gaze Recovery Time" of 250 ms allows for determining where the user focuses their gaze, even during rapid eye movements. Such precision is particularly crucial in applications that require high-quality eye tracking, such as game perception studies, scientific research (psychology and neuroscience), or gaze-controlled interfaces. Various sampling frequencies and associated pupil tracking modes in both bright and dim lighting conditions (with automatic calibration) allow for adjusting performance to the project requirements and the target population being studied.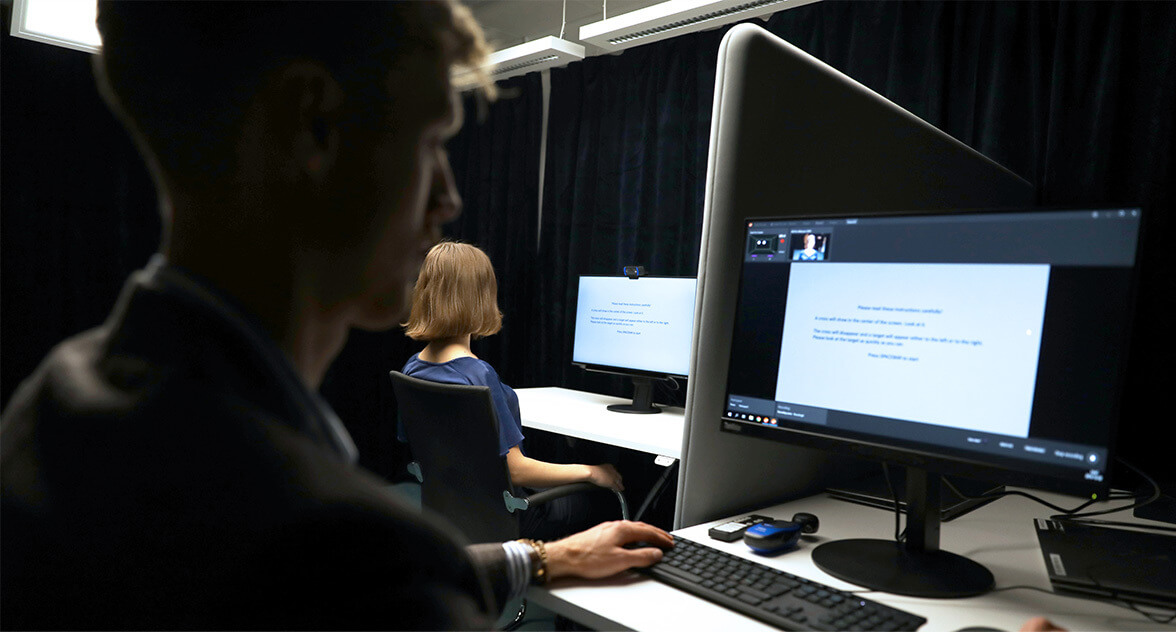 Eye tracking research in laboratory conditions.

We utilize the Tobii Nano kit for studying mobile interfaces.
What can be learned from
eye tracking research?
Attention tracking - it allows for identifying where the participant directs their attention, how long they fixate on specific elements, and how frequently they shift their points of fixation. This helps evaluate which elements attract the most attention and hold significance in a given context.
Purchase decision certaintyAOIs), the level of certainty in making purchase decisions can be determined. For example, a low number of visits to an AOI and a short time from the first fixation to product selection may indicate high certainty in choosing and purchasing a specific product.
Brand recognition - short stoppage times and repeated fixations may indicate low brand recognition or difficulty in finding necessary information.
Word and image processing - the duration of fixations, along with pupil size, can reveal how easily or difficult it is for respondents to process words or images. Customers do not remember every step of their interaction, and during survey research, they may provide misleading answers. In this context, eye tracking can effectively capture this problematic area.
Engagement - even if words, phrases, or images are processed easily, there is still a possibility of misinterpretation. Knowing that consumers read your content but do not perceive its value can help you tailor it to better communicate with the target audience.
Cognitive processes and emotions - eye tracking research allows for the examination of cognitive processes such as memory, comprehension, and decision-making. Analyzing eye movements can also provide information about emotions, such as whether a stimulus generates interest, positive or negative emotions.
Data regarding attention is more detailed and reliable than just quantitative data or insights from in-depth interviews. In contemporary research, perception studies have become an essential element in validating other research techniques and methods.
We invite you to cooperate. If you are interested, please contact us.