Project / 17.05.2017
Inspired by ENERGY
The corporate portal for the publicly traded company RADPOL S.A. was implemented based on the editorial system designed by VISUAL. The CMS system functions provide convenient management of a product catalog that includes several thousand items. An implemented tool also allows filtering of products by industry categories (such as home appliances, medicine, telecommunications, automotive).
We designed the architecture of the sub-site "Investor Relations" based on the model recommended by the Warsaw Stock Exchange. Flexible libraries were used to present the listings, combined with appropriate styles visible in the presentation layer. The entire environment, including stock charts, is available in RWD (responsive web design).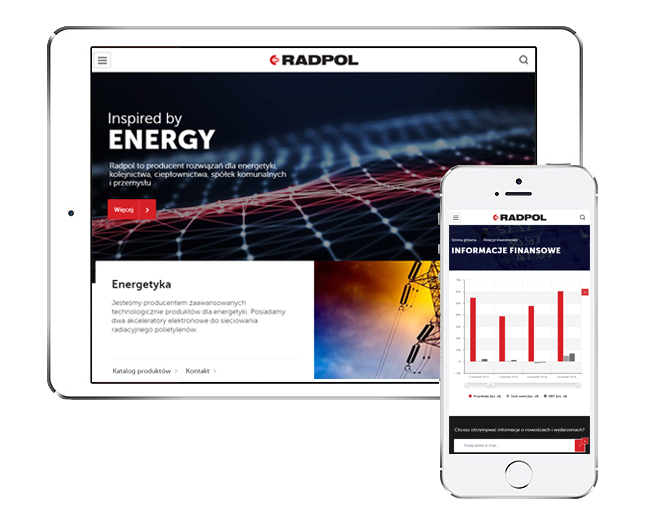 According to the agreed terms, VISUAL was responsible for consulting in the area of communication strategy. The corporate portal integrated the offerings of five companies, with an emphasis on the usability layer, designed in the concept of Design Thinking.
Visit: www.radpol.eu

The RADPOL Group is a manufacturer and supplier of technologically advanced heat transfer installations, products for energy, and plastic pipes for water, sewage, and gas installations, as well as solutions for other industries. Key recipients of the Group's products include sectors such as energy, gas, district heating, railways, and automotive.