Project / 07.05.2017
New website for EURO-TRANS
EURO-TRANS is a company specializing in the transportation of construction materials, mainly aggregates, concrete, and cement. The scale of its operations is confirmed by the fact that it has dozens of branches (transport bases) throughout the country, and its activity is visible in spectacular investments such as the Warsaw airport, the construction of the A1 and A2 highways, the expansion of the metro, and the Warsaw Spire.
EURO-TRANS has chosen VISUAL to collaborate on internet projects, due to our many years of experience in serving the transport industry and numerous references confirming our competencies.
In addition to an attractive graphic interface, also available on mobile devices (RWD), we have taken care of solutions that streamline communication. The "OFFER" tab has been divided into main specializations. Along with the characteristics of each of the offered services, a request for a quote form has been located. Its content is sent directly to specialists who deal with the pricing of specific services.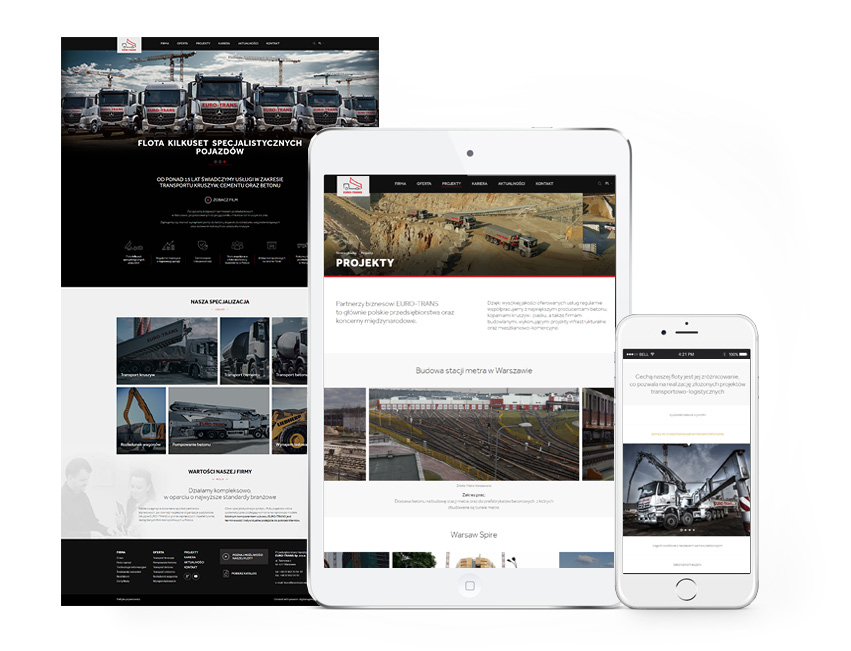 For people interested in working at EURO-TRANS, we have prepared a tool that allows for convenient submission of job applications. Now you can send your application using an intuitive form, which enables you to choose the place of work and the equipment group - if the application concerns drivers.
In the administrative layer, a component has been located that enables management of submitted applications and messages sent to individual users of the recruitment process.

www.eurotrans.waw.pl