Project / 26.04.2017
Project premiere in Munich
We completed our first projects for Maszoński Logistic 11 years ago. Today, we are presenting their new website, which is image-oriented and stands out in the TSL industry (transport, freight forwarding, and logistics). It has a modern design and a next-generation CMS system developed from scratch by VISUAL.

During the conceptualization phase, the objectives were clearly defined: the new website should help build the organization's image and acquire new contracts in foreign markets.
It's worth noting that its premiere coincides with the logistics and transportation trade fair in Munich (9-12 May 2017), in which our client is participating.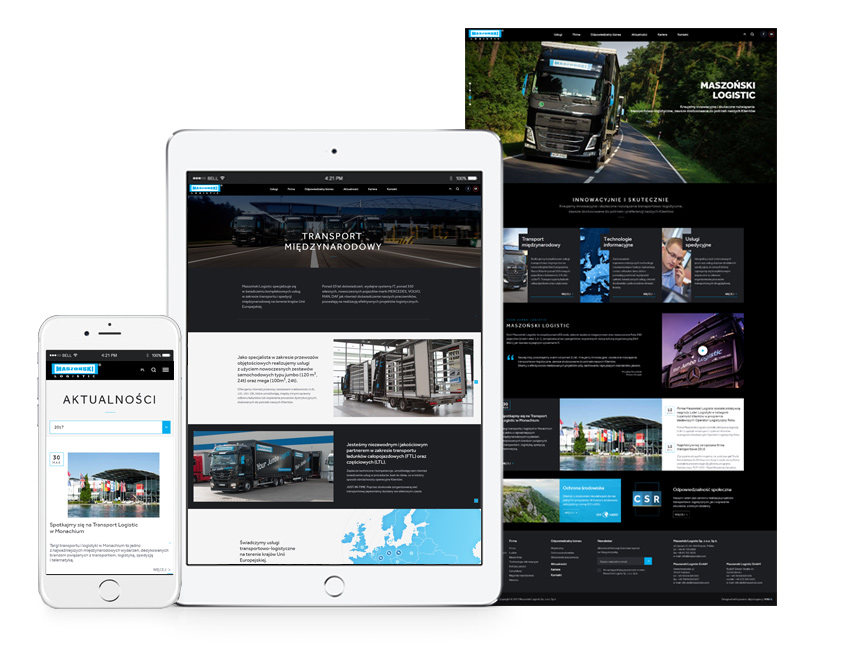 When creating this project, we focused primarily on communication effectiveness. In addition to the TSL offer and the full range of services, we also strongly emphasized the organizational culture. It is visible on almost every page of the website, highlighting that the main potential of the company is its people, their competencies, and passions.

In summary, a good design (including RWD) is like a fully scalable driver's cab, adapting to their preferences, while under the hood is a new, efficient engine (CMS system).

Visit the websites:
Since 1999, VISUAL has specialized, among others, in servicing the TSL industry. Since then, we have completed many creative and technological projects for the largest companies in this sector.