Project / 16.09.2022
The City of Warsaw's Office selects VISUAL services. UI/UX project for WawaShare.
Visual Media, in collaboration with the City of Warsaw's Office, is implementing a web application project - WawaShare. Its theme is dedicated to sharing and circular projects aimed at the residents of Warsaw.

Sharing objects (books, furniture, tools, etc.), properties, and space (coworking), food, time, knowledge, and economic participation (crowdfunding) has a long tradition, but increasingly it is the urban ecosystem that is becoming the arena for many initiatives in the smart city domain. An intelligent city is not only about high mobility (developed urban transport, electric vehicles rented by the minute), interactivity, and being surrounded by technology (touch screens, services provided through Wi-Fi, Bluetooth), but above all functional diversity - adaptation to the preferences of its residents.

It is precisely the shrinking resources (including raw materials, energy, water) and economic turbulence that make young people abandon the desire to own goods in favor of using them. Therefore, if the need for use becomes more important than ownership, it creates the ideal space for collaboration between the city, companies, and start-ups.

It is worth emphasizing that intelligent management of shared resources is not only a social trend but a necessity that will soon have to become an inherent element of cities' strategies.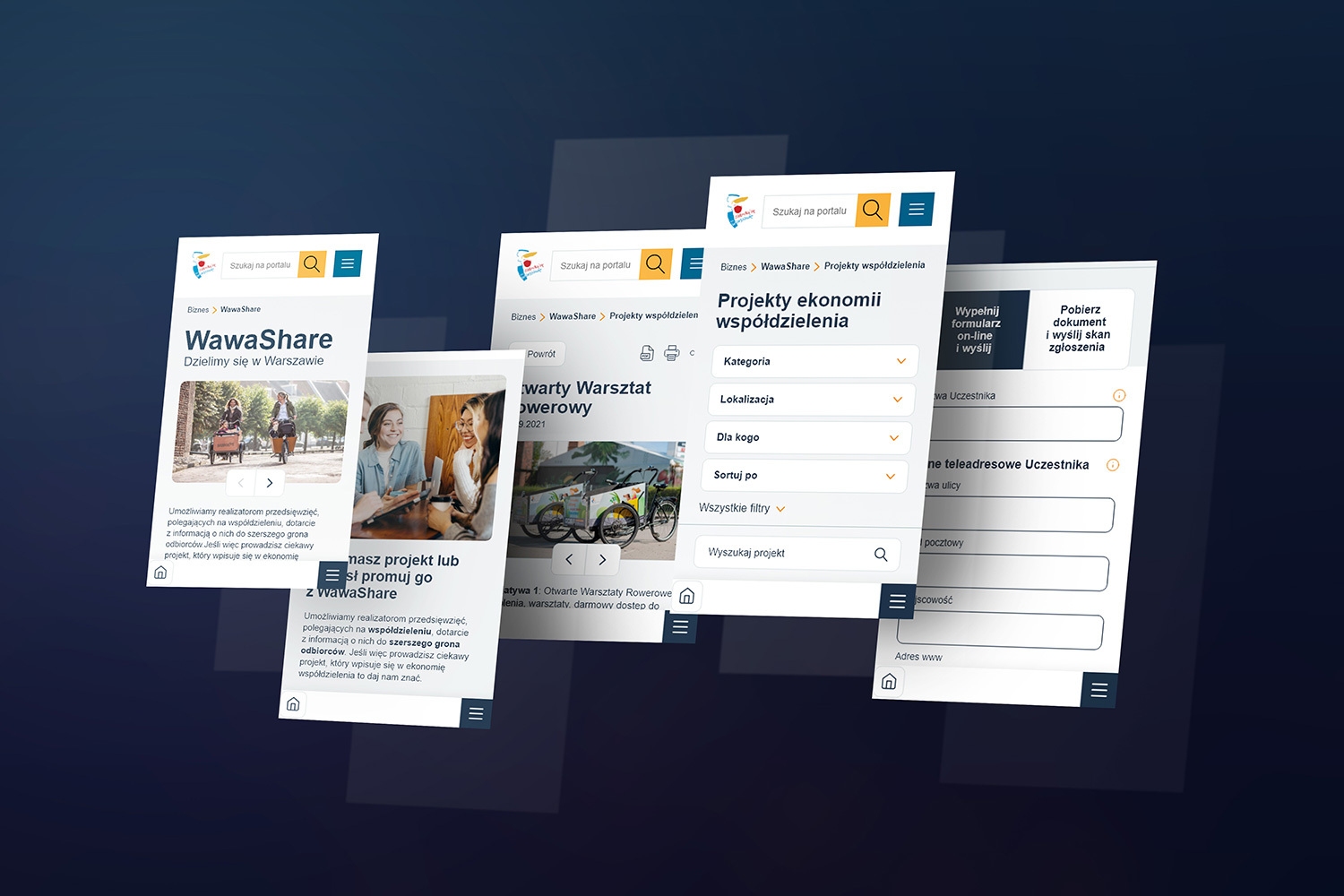 WawaShare - or how the project of an internet portal adapted to the preferences of the residents of Warsaw is created..

The project's business goal is to create a place on the web where sharing projects will be showcased, as well as a space for submitting ideas and participating in the WawaShare urban initiative. The strictly project-related objective is to design a comprehensive information architecture with a layout and interactions (desktop and mobile prototypes) that will enable the application to offer a very easy and user-friendly interaction flow supporting the users' goals.

According to the strategic contract, a research component is included in the project, conducted with both the residents of Warsaw and representatives of entities that are partners of WawaShare (including companies, corporations, foundations, urban organizations, and startups).
The project work was preceded by a detailed expert (heuristic) analysis of the currently functioning portal, documented in the form of a report with recommendations. In the next step, the portal was tested by respondents. During the research, we collected and analyzed both quantitative and qualitative data. The study was conducted online. Users carried out test scenarios, completed a questionnaire assessing the portal (a Likert scale-based survey), among other things:
(1) information architecture;
(2) navigation;
(3) aesthetics (graphic design);
(4) communicativeness of materials (texts, images) posted on the website;
(5) general website support;
(6) the chosen theme (sharing and circular economy);
(7) functionalities (understood as a component supporting the website's operation).
In the research design, an interview questionnaire containing open-ended questions was also used.
Thanks to the implementation of this procedure, we obtained direct reference to the usability characteristics (ISO/IEC 9126) defined by the International Organization for Standardization, which considers understandability, ease of learning, operability (understood as the ease of using the system in a given context), attractiveness and compliance with usability principles as constitutive features.
The conclusions, recommendations, as well as the methodology of the entire research framework were described in detail in a report prepared in accordance with scientific standards (a requirement of the City of Warsaw).
Before prototyping, we organized UX workshops combining the most effective elements of Design Thinking and User-Centered Design.




As a result of these works, we have created a prototype (desktop and mobile) with a high degree of fidelity, which is currently being tested by another group of respondents.
The created application model is in a way a ready-made environment for implementation in many Polish cities that would like to facilitate participation of their residents in sharing projects, and thus create a more friendly, ecological, and intelligent (smart) living space.
Be_Smarter!